SERVICE
Description of Business
Used equipment/
parts purchasing and sales
We cater to various needs with our strengths in inventory, technology and proposals.
Sense Corporation purchases and sells used SMIT ion implanters and components.
Feel free to make an inquiry on older parts, as we may be able to propose upgrades or original solutions manufactured by us.
Furthermore, we also provide rebuilt equipment manufactured from used components. Rebuilt equipment can be customized to accommodate specifications requested from customers.
We do not compromise quality in our pursuit of speediness and cost-minimalization.
Only products that have cleared the same strict standards of new products, and products that have their specifications 100% confirmed will be delivered to customers.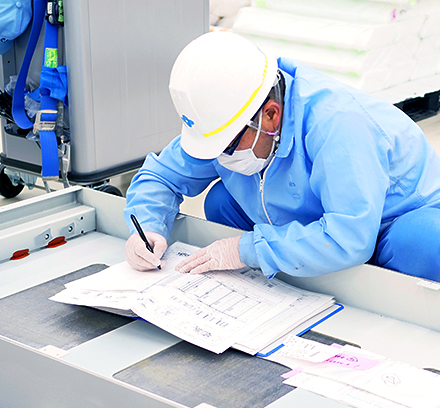 Transferring/modifying and disassembly of equipment
Added value with improved performance and follow-up services
Allow us to help you transfer equipment to factories or manufacturing lines, and also with dismantling and disposal of equipment.
We offer solid skill sets as a company specializing in used equipment, from decontamination to disassembling, packaging and moving out. Services to modify equipment for improved performance at the time of transfer are also available.
We also accommodate specialized specifications. Software will be upgraded to the newest version to meet customer needs for follow-up services at delivery. Although we mostly handle SMIT ion implanters, do not hesitate to ask about other types of equipment as well.